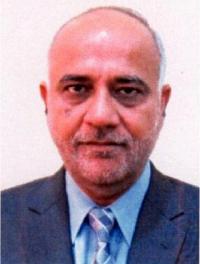 Dr. Naeem did his Doctorate in economics from Northern Illinois University, USA in 2010. Prior to that, he did his MBA from Institute of Business Administration, Karachi and undergraduate in Mechanical Engineering from NED University, Karachi in years 1998 and 1990 respectively. Since graduation from NED University, his professional career has been diverse; stating from machine tools and power generation to university teaching and development management.

He worked in engineering concern till 1998. After then, he switched to university teaching and taught various quantitative and economics courses at undergraduate and graduate level till 2014. His core areas were econometrics and labor economics. During his academic career, he headed graduate economic program besides doing teaching and research.

In 2014, he switched to Government by joining Planning Commission as Member Social Sectors. During his term, he was able to publish first official Multidimensional Poverty report based on PBS's Pakistan Standards of Living Measurement in 2015. This poverty index helps in broad identification of lagging areas and it is used by provincial and federal government for equitable development planning. Besides, he was also able to switch Poverty Estimation from, narrowly defined, Food-Expenditure-Intake (F I) Method to, more relevant, Cost of Basic Needs (CBN) Method in 2016.

After completing his term of Member Planning, he joined UNDP as advisor and worked for one year for institutionalizing SDGs at federal and provincial levels. He worked with national and sub-national governments and helped them in adopting Mainstreaming Acceleration and Policy Support (MAPS) for implementing SDGs. He contributed significantly in identifying reporting gaps for SDGs and devised short and term strategies for reducing these gaps.

In year 2017, he joined Government of Sindh as Chief Economist and worked there for four years. As Chief Economist, he headed the Technical Committee of Planning & Development Department (P&DD). The committee appraises development projects from forty-eight departments to formulate Annual Development Budget. He also led the foreign aid section which is responsible for seeking loan and grants from multilateral and bilateral development partners for financing priority projects. During his four years stay in Sindh, he contributed substantially in formulating mid-term development strategies and institutional strengthening of P&DD and its attached departments. He was actively involved in reorganization and institutional development of Sindh Bureau of Statistics and Research & Training Wing, two attached departments of P&DD, Sindh.